Hello, My name is John. I am 55 years old and have been married to my wife and best friend, Roxanne for 35 years. We have a 35 year old daughter, Lara and 2 grand kids-- Hannah 12 and Timothy 17. We have been raising Timothy since he was born (Long story). Our cat (family pet) is named Mr. Crowley. We are ( Concert Chasers INC. )
I started going to concerts around 1970 with my older brothers. Concerts in parks, bike rallies, Truck-ins and such. My first big concert was Black Sabbath in 1971 or 72 at Freedom Hall in Louisville, Kentucky. I fell in love with their music, especially the lyrics-- I love the stories behind the music. I have been following Ozzy ever since. I got to shake his hand once, back in the old days when concerts were open pit and we were always up front. I would love to meet him and talk to him.
I have collected alot of memorabilia over the years. My most prized is all my Ozzy stuff,my drumstick collection, my Rainbow painting, done by an Army buddy, Bill in 1976, a John Bonham drumstick, and a signed Craig Nunenmacker drumstick. He plays for Black Label Society and his birthday is the same as mine (Nov.5). We were at Bogarts in Cincinnati, Ohio (Nov. 5, 2005) and I got to meet him.
I could go on forever, been to over 200 concerts and met alot of great musicians. My life's goal is to meet Ozzy, or at least be recognized as a true Ozzy fan.I have been trying for MANY,MANY years. I even have a wall dedicated to just Ozzy, Zakk, and Randy Rhodes. I have a closet full of stuff. I would love to get VIP tickets for Indianapolis, ( Verizon Wireless Music Ct.) but they cost to much. ( HELP US OUT OZZY ).
So if you are tuned in Ozzy:
DROP ME A LINE.
MAIL ME AN AUTOGRAPHED PHOTO." I'm truly YOUR BIGGEST FAN"
Right now in my life, after fighting for 2 years for Social Security Disability, i finally got it. It's not much, but it makes the house payment and we try to save a little so we can go to one or two concerts a year,( our favorite family activity). I am a Vietnam Era Veteran. I don't know what I'd do if it weren't for the V.A. (A special thank you to them). Feel free to write me and talk about the old days, share photos, or whatever. My friend Dana who built this website added an update page. I'm not very good with computers but i hope to keep everyone up to date.
Also i would like to thank the Hancock County Clairon ( our local newspaper), for coming out and doing a full page article about me.
John
John Burnett
Hawesville, KY 42348
270-927-0345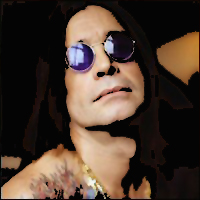 Website: http://ozzhead1956.tripod.com
OR